by Mary Gomez
24 Nov, 2016
Grand Cherokee
The modern SUV has evolved from a basic recreational vehicle to a ride that opens up a whole new world of adventure for its drivers. With the 2017 Jeep Grand Cherokee, you can enjoy endless luxurious drives as well as thrilling off-road expeditions. Truly, this Jeep in El Paso can satisfy your appetite for excitement and so much more.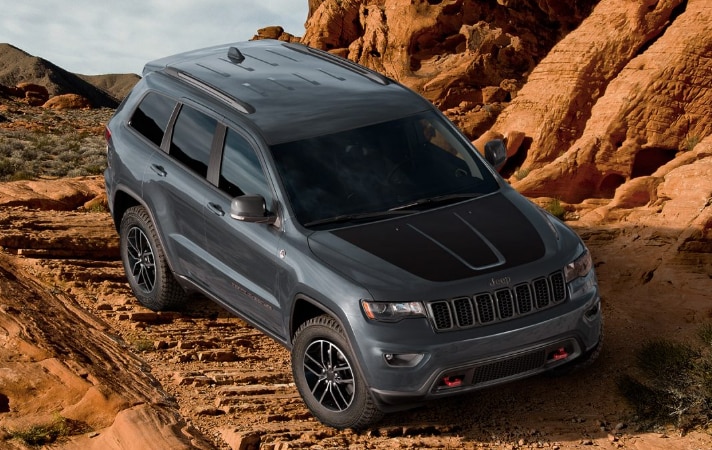 Get to Be the Off-Road King in the Trailhawk
If you're the daredevil type of driver, then the 2017 Jeep Grand Cherokee Trailhawk is the perfect model for you. Eye-catching exterior highlights include 18 inch alloy wheels, gunmetal details on the doors and mirrors, and a matte black hood that reduces glare for better driving on the open roads. As a 4x4 rated SUV, you can expect improved performance on rough trails thanks to its skid plates and Quadra Lift air suspension.
Experience the VIP Lifestyle in the Summit
Even if you're not in the mood to head for the outdoors, the 2017 Jeep Grand Cherokee Summit can take you to any destination in style. You will immediately notice the 20 inch aluminum wheels and the panoramic sunroof. The interiors exude nothing but class, thanks to soft Laguna leather on the seats, as well as premium upholstery on the doors, glove compartment, and center console.
Underneath the Hood
Standard on both the Trailhawk and the Summit is a 3.6L V6 engine that can generate 295 horsepower and 260 lb-ft of torque. A second engine option comes in the form of a 5.7L V8 which gives you more power to work with, which is 360 horsepower and 390 lb-ft of torque. The most fuel efficient engine choice is a 3.0L V6, which is EPA-rated at 30 mpg on the highway, making it among the best in its class.
Tech-Savvy with UConnect
The 2017 Jeep Grand Cherokee in El Paso lets you sync your Apple or Android phone via the UConnect infotainment system. This gives you access to vital apps that you can surely use while you're on the road. The 8.4 inch touch screen lets you view maps in the city and even off-road, you may even check the traffic conditions or the weather.
Plus, you may use your voice to give commands for making phone calls, sending text messages, and selecting your favorite tunes to listen to. An option for WiFi connectivity lets you and all your passengers stay up to date, no matter where you travel.
Find out more about this exceptional ride by visiting a dealership for Jeep in El Paso today. With all its features, it's no wonder why this vehicle is ranked by car experts as one of the best midsize crossover SUVs in the market.
Sources:
2017 Jeep Grand Cherokee - Kelley Blue Book, KBB.com
2017 Jeep Grand Cherokee - Trail Rated Luxury SUV, Jeep.com